The great bay window, looking out on to the oaks forest, characterizes the Artimisia room. The trees surround the large windows, so close that they seem part of the room, creating a magical, mystical atmosphere: one has the illusion of sleeping in the woods. The coffered decorated ceilings, with their green tones, the combination of antique furniture with designer objects, the soft lighting, make the Artimisia room particularly pleasant. The bathroom is completely lined in grey ardesia stone. The room measures more or less 28 square meters.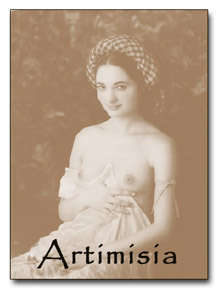 The legend of the Lady with the herbs – that is, the legend of Artimisia – was told by Mr. Alfredo de Projestiinis Euroleis on page 123 of his chronicles.
Artimisa was beautiful. Actually she was really beautiful. Dark curls framed a face of fine features, which were instinctively sensual, yet almost childlike. Her eyes were even darker than her hair if that is possible. Her gaze was ineffable yet penetrating. Her body was sly and elegant with graceful movements but also with wild rebellious spurts. She was simply beautiful. She had no other talent: she was lazy, absolutely inept, undoubtly bored. She had neither passions nor aptitudes; she didn't love music, painting or embroidery. Niet. Epoch cinema still hadn't been invented but certainly even that would have appeared to her, insignificant. In short, nothing aroused her interest outside of the search for herbs, aromatic herbs, official herbs, unknown herbs and poisonous herbs. Herbs. Never tiring, she would leave at dawn, sneaking away from the control of the maid and would travel for hours looking for mandrake, cortuse or aethioneme. Artimisia would wander through forests and plains, hills and mysterious patches; she would wander and be happy. So why change her nature if it wasn't necessary?
She was daughter to rich and noble parents – the opposite would have been improbable! Beautiful Artimisia was a problem for her respectable parents. What could they do with her? Marry her off! So along came a line of possible husbands, the count, the prince, the son of a nobody who had suddenly became more powerful than the king, a handsome suitor, an elegant suitor and even a well-educated suitor – she liked none of them. Nada. Whenever a possible suitor arrived, what would Artimisia do? Simple – she would fall into catalepsy. One day a ragged old man, who was also lame even a little sad arrived at the palace. This old man bore an expression of someone who was used to living and knew more about life than anyone else. He had intelligent eyes and good manners. He stayed at their house because her parents thought they would gain points in paradise. What fools! He was a rich patron who, having seen the world went looking for situations that would spark his curiosity – but how do you satisfy an avid? This is how he met Artimisia. On Monday morning he had gotten up very early, who knows for what reason, and he met the young girl, as she was getting ready to leave. He asked if he could accompany her and she agreed. They went away together, in silence. And in silence they kept on walking. She would stop and dig up roots and pick leaves and whatever else. He would also stop and watch her. Both of them were silent. They went back to the palace. She continued not to speak. He continued to watch her. How better to spark curiosity than by he who doesn't want to raise curiosity?
They got married a few days later – The old man and the beautiful Artimisia. She gathered herbs and made infusions all her life; her beloved took care of all the rest. He even decorated a room all in green, among the trees for her.
---